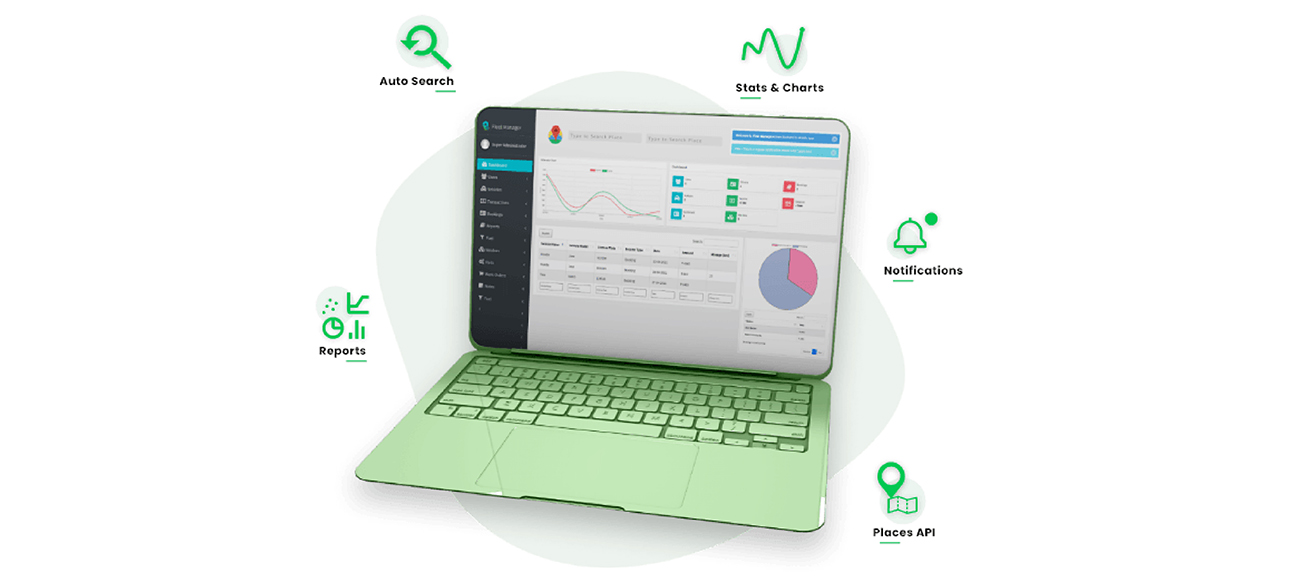 15 Sep

Research Reports Of Fleet Management Software




Fleet management software is a must for today's competitive world. Every small and big fleet player is using fleet management software or fleet management app. No one can't manage fleet business manually. The software can give you fast results with accuracy. In this article, we will discuss effective reports of fleet management software and its benefits.

A fleet management software report is a complete overview of your fleet business. It is a detailed, customised report. it provides you most important information about your business. With the help of this report, you can monitor your whole fleet business.
Income Report:
You can get all information about your income.
You can analyse which vehicle gives how much income.
You can analyse monthly and yearly income reports.
You can also generate vehicle wise, date wise, amount wise and mileage wise income reports.




Expense report:
The fleet management app provides an expense report that updates you about your monthly and yearly expenses.
It also provides information about for which vehicle do you pay, how much amount do you pay ? for which reason do you pay ? and on which date do you make expenses?
In this app, users can add additional notes also.




Delinquent Report:
Only Hyvikk's fleet manager app provides this unique report. You will not find it in any other fleet management software.
This report will give you information about how much monthly business you expect from XYZ vehicle and how much business that vehicle gives.
The gap between actual business and expected business that's called delinquent report.
This report shows you the day, date, vehicle and income of the trip.




Monthly Report:
Monthly reports can give you information about monthly income, monthly expense, and total profit and loss,
The income by category option gives you information about the way you generate income.
The expense by category option gives you information about for which reason you spend money, Like insurance expenses, vehicle wash, and fuel expenses.
Monthly reports provide you information with text and pie charts, It can improve your presentation.




Booking Report:
The booking report gives you information about which vehicle book by which customer? On which date & time?
You can find information like vehicle pickup address, vehicle drop-off address, no of passengers and its status.




User Report:
User reports inform you about which user adds vehicle booking.
You can find here the client's pickup & drop-off location, pickup & drop-off date & time.
You can also get info about journey status and trip charges.




Work Order Report:
Work order reports inform you about which vehicle you send to the XYZ vendor, from date – to date.
You can read descriptions about why vehicles send to the vendor, work order price, total parts cost, total cost, meter reading And its status.




Fuel Report:
A fuel report can give you information about which date, and which vehicle was used.
How many gallons of fuel were used. How many km do vehicles run? And you can check its mileage and You can get info about the trip's cost.




Driver Report:
The driver report option gives you information about which driver gives how much amount of earning in XYZ month.




Customer Report:
Customer report gives information about, your top 10 customers and how much amount they paid you in a month.




Vendor Report:
The vendor report gives you information about how much amount you paid to the XYZ vendor between two date ranges.




Yearly Report:
A yearly report gives you information about how much income and expense you have done in a year, total yearly profit or loss.
income by category gives you information about how you get income.
Expense by category gives you information about how you spend money, like vehicle wash, fuel etc.
All these yearly reports are provided in colourful pie charts.




Benefits of effective software reporting


You can make your business technology-driven. So that you can generate reports and take fast decisions.
Fleet management reports are easy to understand.
You can generate robustly detailed information reports category wise.
With the help of fleet management software, you can reduce or manage your fleet maintenance cost.
Easy calculation of monthly & yearly income & expenses.
It helps to make a decision, on which vehicle is profitable and which is not.
You can easily get information on the mileage of a vehicle.
You can manage clients easily and choose your loyal clients.
You can analyse date wise and month wise trips.
It helps to make a decision on which driver works properly.
It helps to decide which vendor is expensive.
It also provides yearly data reports. So you can analyse whole year data.
Here you can sort, print and export all reports.
fleet management software provides the facility to export all reports in different formats like Excel, CSV and PDF.
At the bottom of the rows, there is a search option so you can analyse and generate reports vehicle wise, income-wise, expense wise, date wise and amount wise.


Conclusion
These are the 12 effective reports provided by fleet management software. These are very unique and helpful to enhance your business. So don't wait more, Buy the fleet manager app today.