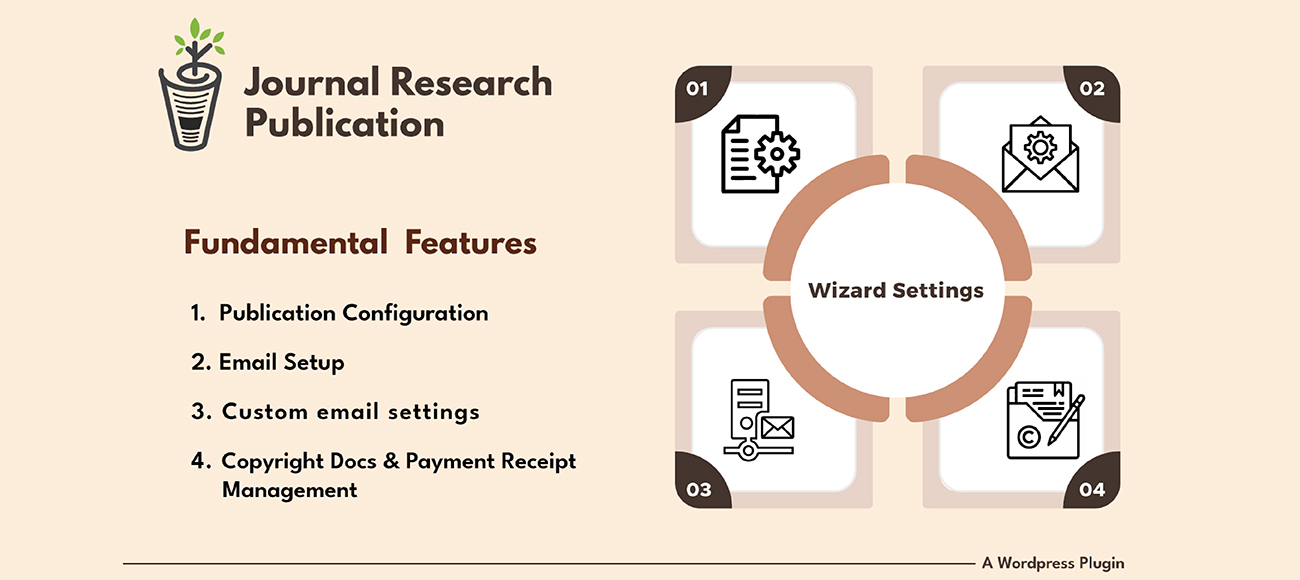 02 Sep

Premium Features Of WordPress Plugins For Academic Publication.

Do you manage academic research papers? Are you facing problems in accepting articles? Do you manually ask authors about "call for Paper" via Emails ? Are you Frustrated in Managing copyright documents and payment receipts locally ? If your answer is yes, then this article is perfect for you. I guarantee here that you will definitely get 100% satisfactory Solutions to your questions.


I conducted extensive study on managing research publishing firms on autopilot. I attempted to search for software, web – based applications, mobile apps, and extensions, but received no findings.


After lot of trials of different apps, I found a Plugin that is best to run academic publishing automatically. However, pearls are only obtained from the sea after a great deal of effort. That gem is known as "Journal Research Publication." It is a lightweight and simple to install WordPress plugin.


"Journal Research Publication" has been Developed by Hyvikk Solutions. It is the best web design company and also a well-established IT company in Bhavnagar. Hyvikk Solutions has more than 8+ years of experience in Web Design, Web Development, Android App Development, iOS App Development, Graphic Design, Digital Marketing, and many other IT services.


Without the help of a web developer, you can develop an academic publishing website using "Journal Research Publication." To Create an academic publication website, you only require a little WordPress knowledge and this plugin. If you have face problems, you can contact Hyvikk Solutions.


There are mainly three user types in Journal Research Publication
Admin
Reviewers
Authors
The Main Core Part of the Plugin is "Wizard Settings" – An Admin Feature that Consists of Journal Publication Configuration.


Publication configuration
Email setup
SMTP test
Advance


1. Publication Configuration
You can set name of publishing company or name of a website.
Date of birth of publishing company or date of launch of journal publication website. This Date denotes the Starting of Publishing Issue (E.g. Vol-1, Issue 1 will be in the Same Month of "Date of Birth").
You can specify a list of Subjects / Categories for which your publishing website would like to accept articles.
The Most Important Part is "Article Prefix". It is used to generate a unique ID for each Received article.
You can set a list of countries from which you want to accept articles.
You can Set an admin email address to receive notifications of article submissions.
If you want to have Articles with Multiple Authors, you can Enable it via "Is your System Multiple Authored" Checkbox. After Enabling it, you have to Set No. of Co-Authors Allowed in your System. Max. 3 Co-Authors Are Allowed within the Plugin.
Specify the number of issues your academic publishing website will publish in a year.
You can use Google Recaptcha to protect against spam article submissions. To use this option, you must have a live website and a Recaptcha Key – Secret. You can use it by enabling the toggle button.
Directory on which you want to save all your article files(doc, docx)
Default Directory: "Wp-content/uploads/journal"
Note: Directory must have access rights to store the files.
Upload file size is the Size of Article File (doc, docx) being Uploaded via "Online Article Submission" Page. This will Limit Authors to not Upload Files Greater than Limit.


2. Email setup
To configure SMTP, there are two options available. 1st is "default" and 2nd is "custom".
The default option will use the default WordPress email configuration to send email notifications, which is insecure.
The custom option is secure. You can set up your email SMTP details to send email notifications.
If you use the default option, you may receive some email notifications in your Spam Folder.
You can click on the "Custom" radio button to change the default option.
To use the custom option, you have to enter the below-mentioned details.
Name: To show Mail Name in the receipt mailbox.
Email: To show the sender's email ID.
CC: It is optional. CC (Carbon Copy) lets you send a copy of the email to other recipients.
BCC: BCC is optional. It also allows you to send a copy of the email to other recipients but hides the identity from each other.
IMPORTANT NOTE : If you have added wrong SMTP details to Admin > "Wizard Settings", then All the Users will not be able to Receive Email Notifications.


3. SMTP Test
You can use the SMTP test to check your SMTP details.
Enter your email ID, subject, and message and submit. If it shows the message "Email Sent Successfully", then you have entered the correct SMTP details in "Email Setup" or else you need to check and update it.


4.Advance
You can use advanced options by enabling Copyright and Payment Receipt Toggle Buttons.
Users can Submit Signed Copyright Transfer Form and Receipts of the Payments Made Against the Article Acceptance.
Here, admin can Verify Copyright documents and payment receipts uploaded by Authors and Proceed further to Publish their Articles.


Conclusion:
You can create your website and make your authors happy and satisfied by using the wizard settings feature of "Journal Research Publication" Plugin. Hyvikk Solutions provide the best quality "Journal Research Publication" WordPress plugin at a very competitive price. So Don't delay the purchase of The "Journal Research Publication" WordPress plugin.