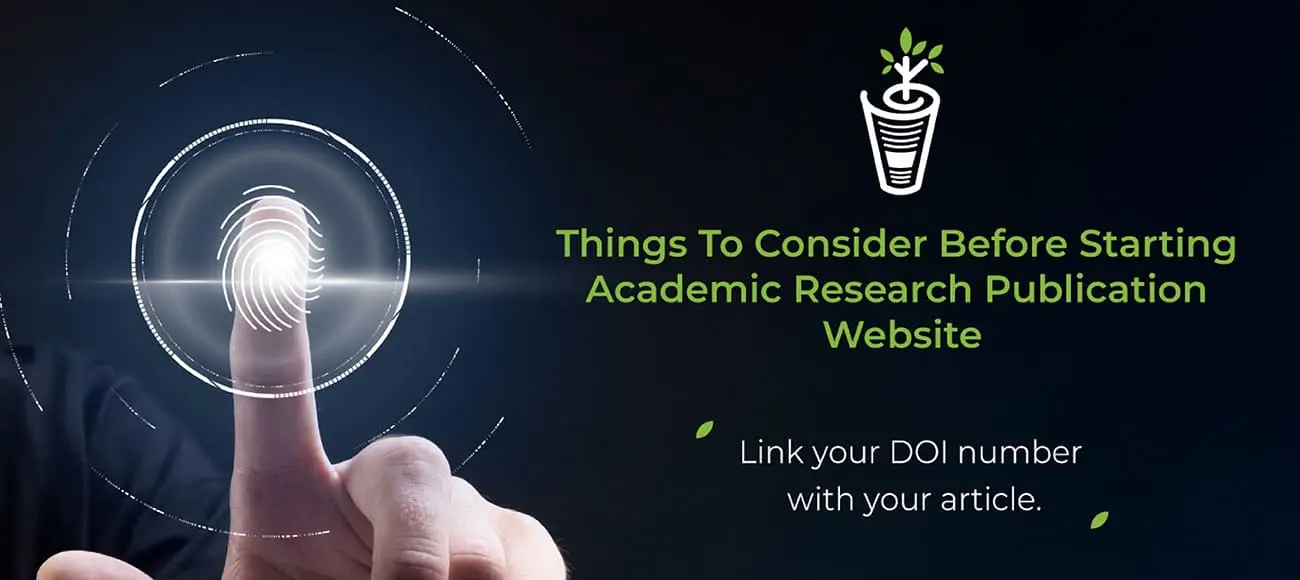 04 Sep

Notable Things About The Research Publication Website

Are you the proprietor of a research publishing house? Is your research publishing business stagnant? You are not receiving a sufficient number of articles? If you have any of the above questions, this article will provide an appropriate course of action.

What is DOI?

DOI means a digital object identifier system that is used to identify content digitally. Publication house provides a DOI number for an article. By using the DOI number, we may find an article online. The articles may change over time, but the DOI number remains constant. As a result, we can easily identify articles. DOI numbers can be used for any form of data, commercial or non-commercial.

A digital object identification is a string of digits and characters separated by slashes. After publishing an article, the publisher assigns it a DOI number.

The DOI number begins with ten digits separated by slashes. DOI is not used by all publications. If you are unable to locate a DOI, you can substitute the persistent URL in your citation. DOI was developed after 2000, hence there are no DOI numbers in articles published before 2000.

DOI Examples

10.1483/acbe/abd066
10.1572/journal.pgno.1001213
DOI is a permanent ID, when appended to https://ac.doi.org/in the address bar of an Internet browser, will lead to the source.

For example, https://ac.doi.org/10.1483/acbe/abd066 will take you directly to the information page for the article "An Analysis of the Pricing of Traits in the U.S. Corn Seed Market."

Nowadays, the majority of reputable publishing houses generate DOI numbers for their articles. That is why authors trust them and only submit their article work to reputable websites. If you want to gain the trust of authors, you must make it possible for them to generate DOI numbers online.

Making an author-friendly website is not an easy task. Only a mature and experienced company can make this type of Research Publication websites , like Hyvikk Solutions. Many new IT companies and freelancers say no to making author-friendly Research Publication websites because it's too complicated to work.

Hyvikk solutions has invented the Journal Research Publication WordPress Plugin. You can quickly create an author-friendly Research Publication website with the aid of this plugin, and you can add your DOI number for an article too.

WordPress is one type of CMS that helps you develop websites quickly. If you don't know how to code and just know how to use basic softwares or websites, then also you can easily make a journal website without any web developers.

"The Journal Research Publication WordPress Plugin by Hyvikk Solutions helps you in creating an author-friendly website." This plugin furthermore allows you to add DOI numbers online.

Author Features In Journal Research Publication WordPress Plugin

Authors can easily submit their research papers on publication house websites.
Details Required to Submit an Article are article title, article subject, his/her name, organization, co-author, contact details etc.
Author can checkout article status from "know article status page".
On Acceptance of Article; author(s) has the feature to pay fees and upload a copyright transfer document.
After publication, the author can obtain a DOI number for his article.
As per my opinion, each publication house should have an author-friendly website. With the help of WordPress, You can quickly build author-friendly websites without paying web designers or web developers. The only need is that you purchase the Journal Research Publication WordPress Plugin.
Don't be too slow. Purchase the Journal Research Publication WordPress plugin today and turn your website into an author-friendly environment!