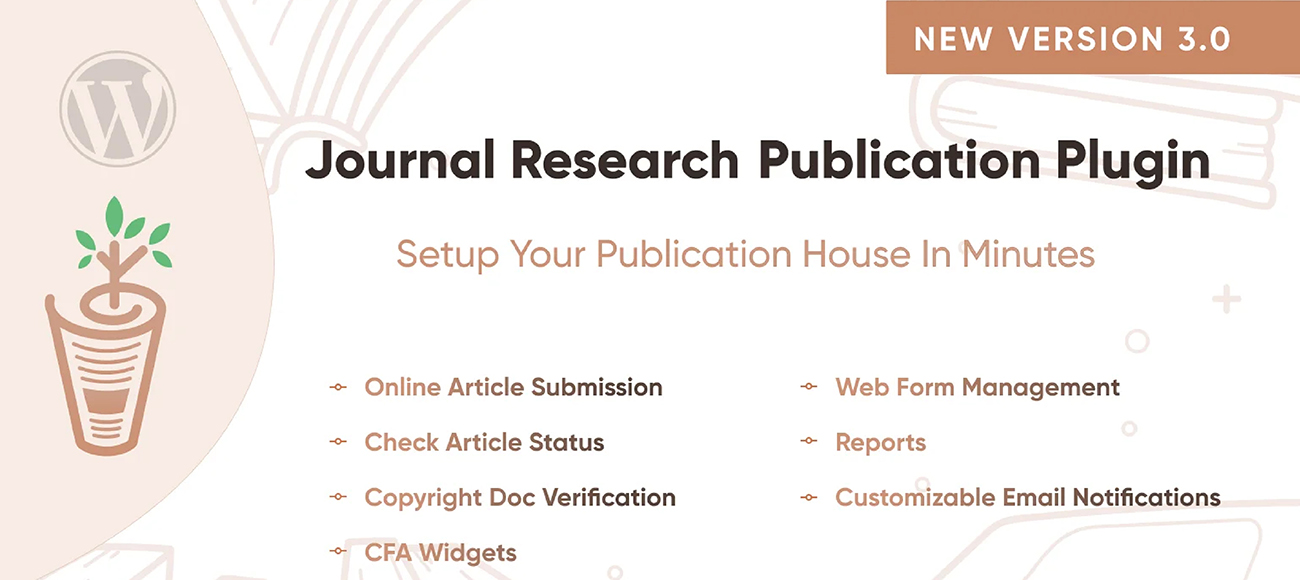 14 Sep

Introduction To Journal Research Publication WordPress Plugin




Have trouble creating a research publication house website? Are you a research publication house and having trouble managing research papers? Are you having trouble managing reviewers to review articles? Do you want to open your own publishing house?

Do you want to start a website for your publishing house?

If you answered yes to any of the above questions, this article is meant for you.

In this article, you will learn a lot about research publishing house website management. You will find the answers on how to manage the research paper. How to manage reviewers? How to start a publication house website? And much more, which you can learn in this article. Here you will find the answers to all your questions about the Journal Publication House. If you feel any doubt, you can freely ask questions in the comment section. We will provide you with a response in the next few days.

There is only one journal research publication WordPress plugin available in the world market. Through the journal research publication plugin, you can manage your publication website easily. In today's market, there is not any plugin to manage research publications on the WordPress website.

There is some outdated and expired desktop software available in the market, to manage the publication house. That software can not work online, and can not work dynamically. With that software, you can not work from anywhere. these are the limitations of that desktop-based software, and you also know how important a website is to work from anywhere.

To manage your publication house easily from anywhere, you can use Hyvikk Solutions's journal research publication WordPress plugin. Hyvikk Solutions is the best IT company in Bhavnagar, Gujarat, India.

Hyvikk Solutions has more than 8 years of experience. It provides web design services, web development services, digital marketing services, and mobile app development services like Android and iOS app development. Hyvikk Solutions has owned more than 12 products. This company provides services and products both. Hyvikk has a total of 3 branches, 1st in Bhavnagar, 2nd in Ahmedabad and 3rd in France.

Hyvikk's Journal Research Publication WordPress Plugin is specifically designed to manage the publishing house's WordPress website. Hyvik Solutions wants to change the education system, so Hyvikk has developed this journal Research Publication WordPress Plugin to help the research publication house. Anyone can develop their own publication house website in minutes through the journal research publication WordPress plugin without paying to the expensive web developer.

It provides a facility to publication houses so that they can manage reviewers to review the articles.

Publishers can accept and manage different categories of articles from authors. Authors can easily submit articles just by filling up forms. Publishers can manage and publish articles by just using the article management functionality of the journal research publication WordPress plugin.

The journal research publication WordPress plugin provides amazing features.
Check Article Status
Copyright Doc Verification
CFA Widgets
Customizable Email Notifications
Web Form Management
Reports


The Journal Research Publication WordPress Plugin can be used by any individual or group of individuals who want to start their own research publication house or website. Here you can get and publish journals like academic journals, UGC-approved journals, and international journals of health sciences.
I found a journal research publication WordPress plugin is the best WordPress plugin for publication houses. At this time, no other WordPress plugin can beat journal research publication. Kindly give your feedback.
If you feel this article is helpful to you, so please like, share, and comment. Your feedback is important to us. Your positive opinion boosts our confidence and your negative opinion motivates us to work hard.
Don't wait to start your publication house website. buy journal research publication WordPress plugin and start your publication house website.