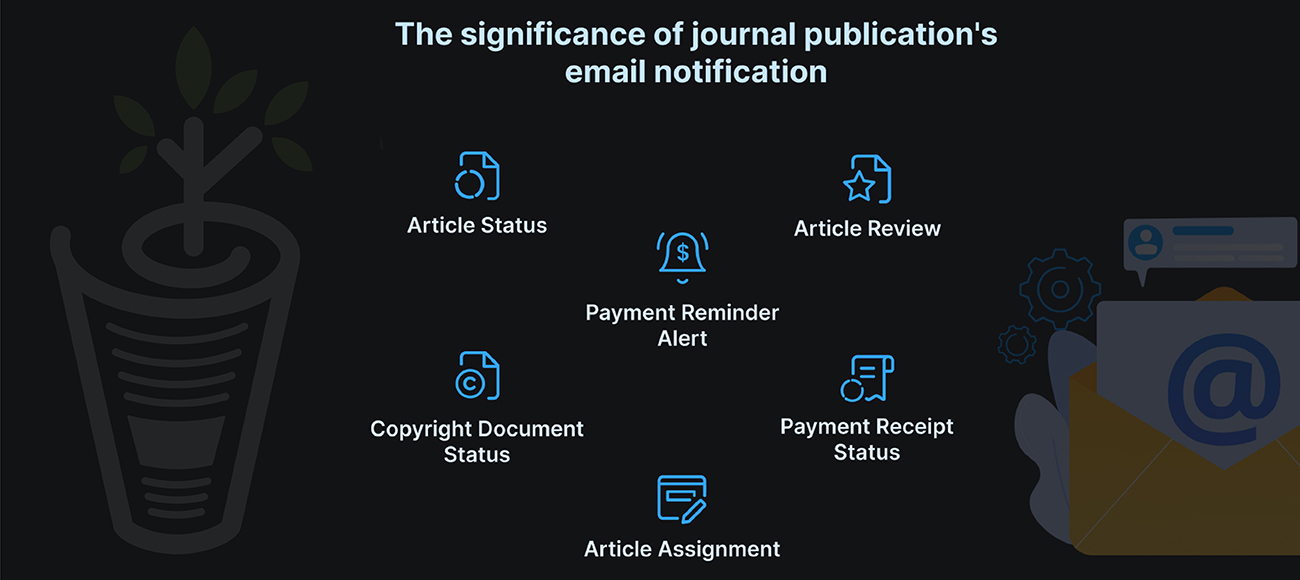 23 Aug

How Email Notifications Can Help Journal Publisher

Academic journals are currently dealing with numerous issues. Authors, reviewers and publishers feel headaches for publishing any Articles.

Let's talk about the key Issues in "Academic Publication Sector"
Not any Proper Channel to Notify Authors about Article Status.
No Proper Article Assignment Alerts to Reviewers by Publication Houses.
Missing Payment Reminders for Authors to Make Payments for theirs Accepted Articles.
No Review Submission Notifications to Authors.
Our Plugin "Journal Research Publication" has a Feature "Email Notifications" to Resolve Above Mentioned Issues.
Now, you may have questions arising in your mind that what's so Amazing in this feature that you have written a Long Article About it!
Here, are the Answers to your Questions.

Email Notifications – Feature Go Through
This Feature Enables your Journal Website to Send Email Notifications to Each User (Author, Reviewer, Admin) based on Related Actions or Events Performed.

++List of Available Email Notifications++
"Article Status" Email Notification
Author gets Status Email Notification Upon "Status" Changes Made by Admin
As a Publisher/Admin; you just have to Setup the "Email Format" using "HTML EDITOR".


"Article Review" Email Notification
Whenever any Reviewer Submits Review for their Assigned Article(s); Notification about Submission will be Sent to Author & Admin.
It is a Two Side Informative Notification which Enables Author As well as Admin About the Submitted Review.
Admin can Design & Format Both the Email Notifications from the Same Module.


Payment Reminder Alert
It's a Reminder To Author(s) About the Pending Payments for their Accepted Article(s).
The Reminder has to be Sent by Admin Manually. This Notification can only be Available for the Articles which have Status ="Accepted" and Payment = "Not Paid"
Admin can Save a Lot of Time by Using this "One Click" Send Email Feature.


Copyright Document Status
Whenever admin Checks the Received "Copyright Transfer Document" of any article; he will Accept/Reject it. The System Notifies the author via email Upon the Action.
There is a Special "Rejection" Email Notification which enables the Author to Re-Upload the Copyright Document Again via "Upload Copyrights Document" Page.


Payment Receipt Status
System Notifies author(s) via email whenever admin confirms or rejects the "payment receipt" submitted by Authors for their Respective Articles.
It is Basically a Payment Confirmation Notification Sent by System upon Status Changes (Accept / Reject)
This Notification Also has the Re-Upload Correct Payment Receipt Feature Connected with it.


Article Assignment
Reviewer's Review is the Most Important Aspect for Any Publication House.
To Get Reviews on-time; Publication System Must have Feature to Notify them about any New Assigned Articles either via Email or SMS.
Our Plugin can Send Email Notifications of "Article Assignment" to Reviewers. This will Make the Publishing Process Fast.
This is how the "Email Notifications" Feature Works in "Journal Research Publication" WordPress Plugin.
It will Definitely Resolve the Notification Issues & Speed up Publication Process.
If you think you have better Approach in Handling above Issues do Let Us know by Commenting here or do Write us on [email protected].
Else You can Purchase this Amazing WordPress Plugin