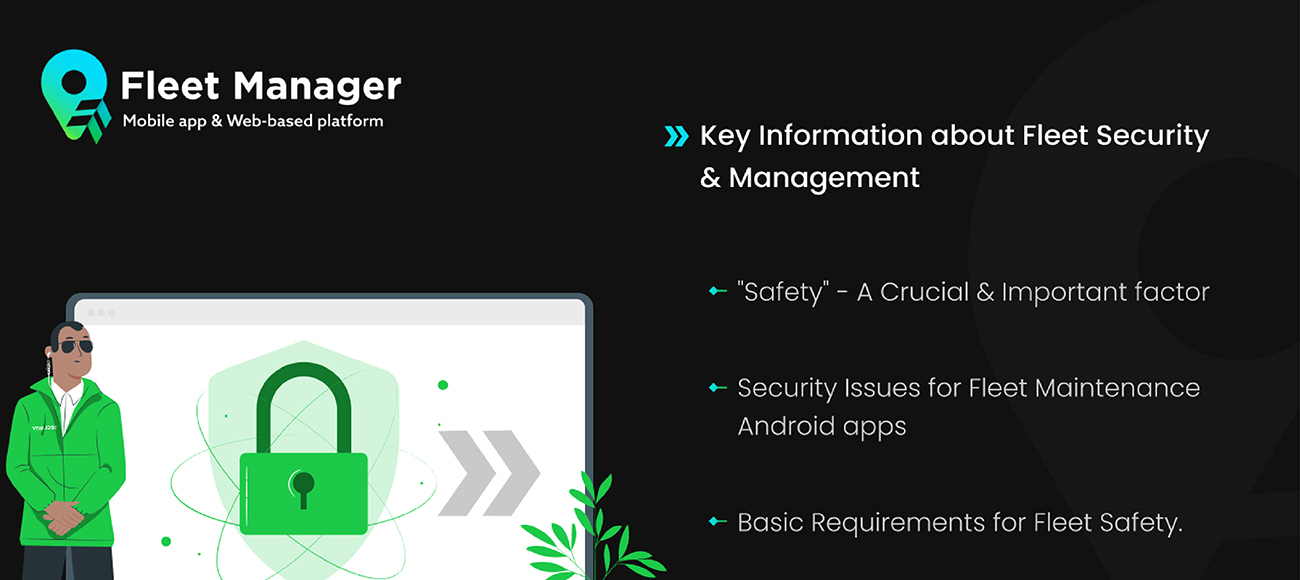 31 Aug

Fleet Manager: Mobile App For Fleet Security & Safety

Are you Worried about the security of your fleets? No Idea of What to do to Improve Fleet Safety? Losing Business due to inefficient fleet management ? Here, you will find the Solutions on how to add safety and Security to your Fleet Management by using Fleet Manager Mobile Apps.

Location Tracking & Live Communication with Driver as well as Customer helps you monitor driver Activity and vehicle Routes. These kinds of Solutions will help you enhance the Safety & Security of your Fleets and Customers. More About Fleet Security & Available Solutions.

Essential Things to Know about Fleet Security & Management

Driving Involves Risks of People, Goods as well as Fleet. If Fleet Business Owners understand the Seriousness of the Risks and use Contemporary Techs; they can Lower the Risks very Efficiently. Here, What we are trying to give is Knowledge about How a Fleet Management with Safety Features could be beneficial and What are the Key Features that can be developed to have Better Security for your Fleets.

"Safety" – A Crucial & Important factor

High Risk & Responsibilities are part of Logistics and Transportation Industry. Driver requires good skills and great attention while on the Road. But Accidents may happen due to harsh driving or some other reasons. It is the Fleet Owner who will be responsible for all the things either it is of Driver or the Vehicle. Safety of Customers as well as Goods is Also an Important Factor. This is why a Proper Safety Measures and Features must be added to your Management Systems.
Here are the List of Safety Measures for it.

Life & Health Protection of drivers & passengers


Life & Health Protection – The Most Important part of Fleet Business as an Owner.
The Better the Vehicles, the better the Drivers can Drive and in turn it will help reducing casualties occur due to Accidents. Safe & Well Maintained Vehicles helps you protect Human Lives.
Another key Factor is Driver's Health. It can also affect Passengers, Goods and Vehicles. If Drivers drive without taking Necessary Rest; it may be the reason to any Accidents or Breakdown. Life & Health Protection for Both are Necessary things to do.


Improve your fleet's reliability


Predictive Maintenance Information – A Feature that gives you Accurate Information about any Vehicle's Maintenance & Repairs that has been done OR to be done in Future. It is an Important Fleet Safety Solution. And you all know that well maintained vehicles run more and they also have less chances of being caught in Accidents / Breakdowns.


Adaptation of Safety Measures in System


Adding Fleet Safety Solutions in the Business is a sign that you care for everyone.
This will help you Compete Better against your Competitors. it will also help you shape a better Image in the eyes of your Customers. And these all are Business Ethics of a Good Company.


Quality Customer Service


When you have good Safety Measures with Reliable Drivers and Well Maintained Fleets; Quality of your Customer Service will definitely Go Up. Customer Service is the key Point that makes your business grow exponentially.


Safety of Human Lives

Around the World, Countless Lives has been lost everyday in Accidents occurred due to Vehicles like trucks, buses, motorbikes etc. A Statistics shown by Wandering that 16K Automobile Accidents Occurs Everyday in the US Alone. A Top Notch Safety Solution & Strategy is a Must Requirement to Prevent and Decrease these Numbers.


Data Protection
Fleet management Android app systems generate a ton of real-time data of drivers' current whereabouts and Navigation Routes. It's important to protect this data using additional data security algorithms and secure data transfer methods should be developed within your Fleet Management System.


Software Maintenance
Most Fleet Businesses like Logistics, Transportation, Cab Booking have Fleet Management Systems. Technical Issues are Part of any Software or Hardware.
So, Regularly Maintained & Improved Fleet Management Systems can help your Business improve Significantly. Improved & Up To Date Systems improves Data Security.


Features of fleet management systems – An Important Factor for Fleet Safety.

When Safety is the Major Concern for your Fleet Business; it is Important to have some Basic Security Features in your Fleet Management App. Here are Some of the most Important Features for it.

Monitoring + Location Tracking of Drivers & Vehicles
Vehicle Monitoring helps you track Driver's Riding Skills, Behavior, Speed, Location etc. The Best Part is "Location". It will help you Track Driver's Location. If any driver is going in wrong Direction OR heading towards wrong route, Admin can Inform them via Alerts OR Notifications.
Vehicle Location also helps you track delivery of Important Goods.
All these data will help you decide driver's dedication to Serve and the Capability to do work with your Company. In turn, it will help your Fleet Business Grow More.


Improved work management
fleet management software helps you process Bookings Quickly and Easily. You just need to check the New Bookings from the List, Find Free Vehicles/Drivers and Assign them to respective Bookings. And It is DONE ! No Calling OR Messaging Required to Assign Driver. Quick and Easy STEPS.

GPS Technology Enabled System
GPS Technology helps you Monitor & Track Vehicle Location, Speed & Other Vital Information. When it is on Service for any Booking, You can Check Accurate Location, Speed, Braking Occurrences etc. This will help you decide driver Performance & Capabilities.

Break Down Monitoring
Accidents May Happen. Important thing is how you deal with it. As a Fleet Company; You must have some kind of Breakdown Management and Monitoring Feature within your System. It will help you Prevent Accidents and if any accident has occurred, it also helps you decide proactive steps for it.

Conclusion
Being a Fleet Business Owner, All the Above Mentioned Features & Safety Standard must be Followed. It will Grow your Business Exponentially. To Do you you Need an All In One Solution.
A Fleet Management Solution which have these Features. We "Hyvikk Solutions" are Well Versed in developing Logistics & Transportation Solutions.
Buy Our Solution Today : fleet management android app