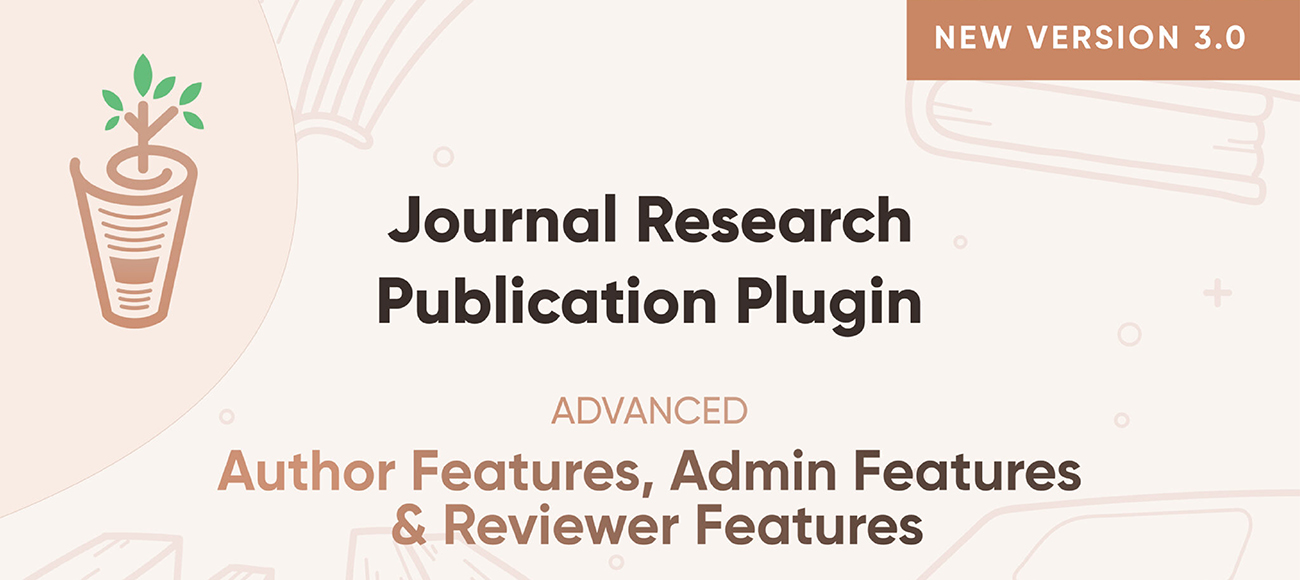 15 Sep

Amazing Features: Journal Research Publication




Preamble
Basic plugin information
Features
Preamble:
Too much workload in your journal publication house? Do you have many employees but less profit in the journal publication business? Are you facing issues in managing reviewers? If you say "yes," then you are at the right place.
In this article, I will provide you the best solution for all of your journal publication house problems.
There are many types of publishing houses in the market. I met them one-to-one. I have discussed with them their problems. Some owners have problems managing work, some have problems on managing reviewers, and some have queries related to writers.
Approx more than three months of online and offline research and surveys. I found a solution. It is an all-in-one solution for journal research publication houses problems. You can use it for academic journals, UGC journals or UGC-approved journals, and internationally this WordPress plugin can be used, as an example international journal of health sciences. This solution name is Journal Research Publication WordPress Plugin.
Basic plugin information:
Journal Research Publication WordPress Plugin was founded in 2017 by Hyvikk Solutions. Hyvikk Solutions is the best IT company in Bhavnagar, Gujarat, India. Hyvikk Solutions has developed this WordPress plugin because Hyvikk Solutions wants to improve journal quality in India.
Nowadays, Journal Research Publication WordPress Plugin 3.0 version is available on market. In the early stage of a plugin, it was like a child, but from time to time, Hyvikk solutions made changes, improved it, and added new features to solve research publication house problems. Today, this plugin is completely perfect for your research publication house like a mature person.
Hyvikk Solutions added many advanced features in the Journal Research Publication WordPress plugin. I will give you the below information about all the features of this plugin.
Features:
1. Reviewer Features:
Journal Research Publication WordPress Plugin provides the best features for reviewers. It helps to improve work in time. It has been updated with new latest design and features.
Reviewers can view uploaded articles. Reviewers can give status to each article like accept, under review, published and rejected. Reviewers can view, edit and download articles in PDF format. There are no more unwanted options, so the reviewer will not be confused.
New Standalone User Type "Reviewer":
if all reviewer's articles shown on one dashboard, there are more chances of mistakes. with the help of this option, each reviewer can see just the allotted articles to them, so there are no complexity and fewer chances of mistake.
Removed Irrelevant Features:
There are no unwanted options which confuse reviewers. There are only options, which are useful to the reviewers. There are Security and Validations to hide irrelevant Features from Reviewer Login.
Design Changes & Improvements:
Developers have changed their designs and made them attractively, and changed some backend code to make the website fast, So reviewers can enjoy the work.
Demo Website Reviewer Login:
URL: https://journalpublicationv3.hyvikk.solutions/wp-admin
Email: [email protected]
password: 123456
2. Admin Features:
Admin has all rights in Journal Research Publication WordPress Plugin. Admin can set rights for users, reviewers and authors. Admin can add, view, edit, delete and download articles. Admin also can check payment status, and article status with date. Admin can set reviewer for article and can view recommendation of reviewer. Admin can set publication configuration, Email setup, SMTP test and copyrights & payment receipt.
Admin can set up email format. Admin can send/receive email notifications with/without SMTP details. Admin can set different formats for accepting articles, rejecting articles, publishing articles and articles under review. Admin can set up payment mail format also.
Admin can set web form submission field, he has also right to add or remove any field. He can make forms as per his requirement.
Admin can migrate data and features from Version 2.0 to 3.0.
Admin can add, edit, and delete reviewers direct from the wp-admin panel.
Admin can generate and download different volume-wise reports. There are added extra fields in the article submission form.
Demo Website Admin Login:
URL: https://journalpublicationv3.hyvikk.solutions/wp-admin
Email: [email protected]
password: 123456
3. Author Features:
New Article Submission Page:
The author can submit article through article submission page. author can add title, subject, author name, institute or organization, email id, contact number, co-author details and country.
To know the status of the article, author can check the details of articles.
Design Changes & Improvements:
To provide a better user experience, the owner has changed the website code and website designs.
Conclusion:
In the above article, we discuss features of the Journal Research Publication WordPress Plugin. If any person asks me today, how to make a research publication business profitable? I suggest buying a journal research publication WordPress plugin. With the help of its feature, your business will become 100% profitable.