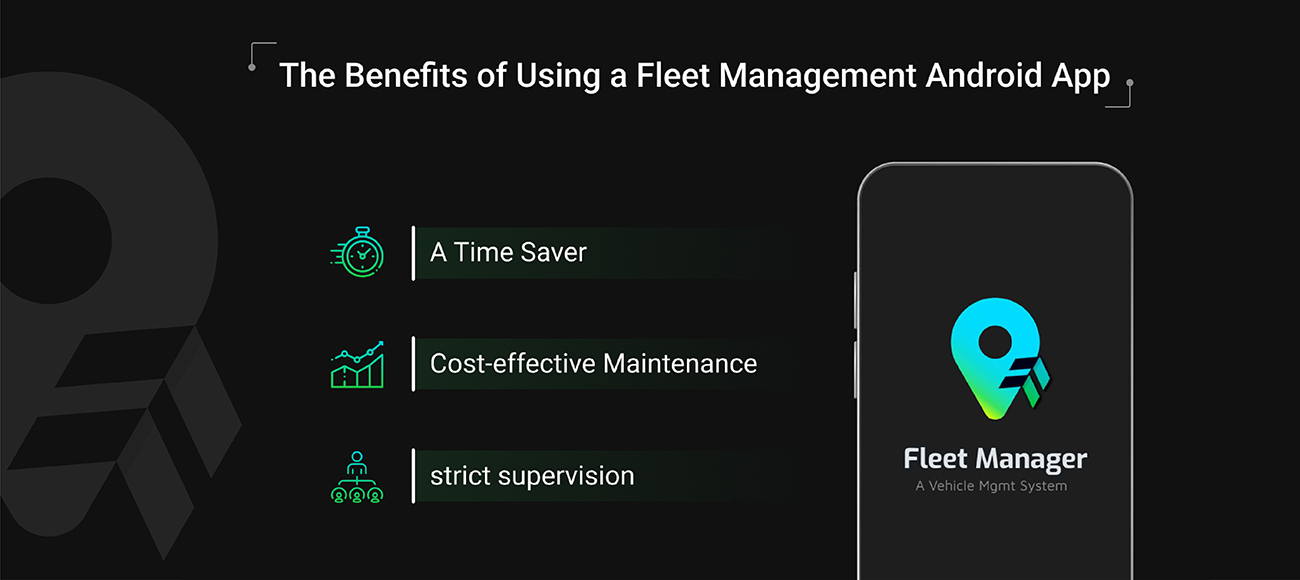 29 Aug

Advantages Of Using Fleet Management Android App

Do you own OR Manage Fleet Business? In Search of any Easy & Reliable Fleet Booking & Management Solution that also gives you Management Mobility?

Want to Know How the best fleet management android app Works and Benefits of Using Mobile App for Management?

Here, You will Learn and Find Some of the Most Amazing Benefits of it.

Not All Managers have time to sit down, check & Process each and every bookings from Office Desk. They have Meetings & Other Works Also. They also need to Go and Visit Clients and Other Franchisee Owners too. So, To Process Each Booking Quickly; Fleet Managers Require a System that have Mobility. A System that can be Accessed Anytime Anywhere.

In Simple Words, If they have an App which is Connected to the Main Management System and can be Accessed from their Mobile Phones; It's the BEST THING IN THE WORLD.

Now, you may have Questions that which platform to choose while owning OR Developing any Fleet Manager Mobile App ?

Here is your Answer: Mobile App for Android Phones

You should also have this Question: "Why ?"

Because Android Phones are Low Cost & Easily Affordable by Anyone. Global Reach of Android Devices is Much More Compared to "i-phones". That's why it's better to Invest in "Android App Development".

The Future of "Mobile Technology" has soo Much to give to People and it will Grow Exponentially. You can Buy OR Develop Creative, Out of the Box Android Apps for your Business.

Let's talk about the android mobile Apps for fleet management applications.

Advantages


A Time Saver
This is the Age of Time & Money. People with Multi-Tasking Ability rules Everywhere.
But for Some kind of Jobs; People require techs. Techs which can help them do Multiple Tasks from Anywhere. For Fleet Managers, Having Mobile Apps to Manage Everything is like having some kind of Power within them. Mobile Apps give Access to Whole Fleet Management System which is Stored anywhere on the Cloud. You can have Features in Mobile Apps Like assigning Rides to Drivers, Managing Bookings, Expenses etc.


Security in the Heart
The more the System data is Accessible to All; the more it is Insecure. Mobile Apps, on the other hand allows Secure & Limited Data Access through APIs and Authentication Protocols. There are less Possibility of Getting Erroneous Data OR SQL Injection on your System Database. Good Mobile Apps requests limited data from System / Server. And Most Important thing, Google Approved Mobile Apps are the Best to Use for your Business.


Mobility
Mobile Apps give Fleet Managers Wings !! Same as Redbull 😄 . Fleet Managers did not have to sit down All the Time on Desks to Manage Bookings and Drivers. It is Easy to Work and Managers are free from their Desks. They can do any Operational Tasks Whether it is Driver Assignment, Location Tracking or Booking Status.


Emergency Management
In Fleet Business, Emergency Occurs anytime. It may be due to Vehicle Breakdown, Tire Puncture, Driver Misbehavior or anything else.
Prevention is Better than Cure – As the Quote Suggests a Fleet System with Emergency Notifications of this kind of Events can help Fleet Managers & Business Owners make reactive decisions to resolve things. Event Tracking through Mobile Apps help managers prevent any Major Damage or Accidents.


Quick Data Accessibility
Customers can make Bookings anytime ! Managers have the duty to Fulfill all the Customer Bookings Quickly. So, Latest Booking Information must be on hand. Mobile Apps with Booking Data Synchronization can help them Process Bookings in Just few Clicks. App Notifications of Latest Bookings is like "A Cherry on the Cake". This can alert Managers and help them process the Bookings on the go.
Synchronized Data of Drivers, Vehicles and Payment Reports within the app also helps Managers do other Tasks.
Time Saved. Customer is Happy and your Business Owner is Also Very Happy !
There is a digital trail that supports everything thanks to the app's easy accessibility to the Stored Data. A mobile-accessible data not only saves money but also time, which can be beneficial to any company over time.


Strict Supervision
Fleet Bookings can be of 1 hour to Several Days. Managers have the duty to Track and Manage Several Bookings. Mobile App with Ride Status & Vehicle Tracking can help managers Monitor Everything. If any Emergency Occurs, they can take Reactive Steps immediately based on Vehicle Tracking Data.
Managers & Drivers can also Stay Connected 24×7.


Easy Vehicle Maintenance
One of the Most Important element of Fleet Business is Maintenance. Manager's worst nightmares' come true if any car breaks down while travelling. Scheduled Maintenance and Service is important to avoid this kind of problems. Mobile Apps with Vehicle Maintenance & Service Reminder Notifications can help Fleet Managers Prevent Vehicle Breakdown.


Fleet Management On the Go.
Mobile apps offer an easy-to-use solution to continuously Manage & Monitor Fleet Operations. Not Only it can Make Management Easier, it can also help in increasing Productivity. To Make fleet management apps more user & Business Specific you can Add New Features or Customize Existing One's.


Liking is More Important than Reading. Hope that you have gained good knowledge.